The Ruined Pantheon MobArena is a long but narrow Singleplayer MobArena with a Greek-style theme, much like the spawn. It is built like a Pantheon, although floating in a void and broken in a few places. See the picture below. It was built by Lumberjik, but modified by Starmarsh.
The cost to enter Ruined Pantheon is $500. Ruined Pantheon also has 10 rounds, tied with the retired MobArena Plague for lowest amount of rounds.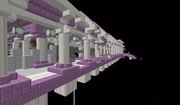 There's only one class for Ruined Pantheon, but it can be played a number of different ways.
Last Defender

Pantheon Defender's Armor (Chain Armor), all with Protection 2
Pantheon Defender's Gladius (Iron Sword) with Sharpness 3 and Knockback 1
Pantheon Defender's Bow (Bow) with Power 3, Punch 1, and Infinity
Pantheon Defender's Shield (Shield) with Protection 2

Red Lozenge
White Flower Charge
Red Cross
Red Chief Indented
Red Base Indented
Red Bordure

2 Potions of Healing II
1 Splash Potion of Healing II
1 Lingering Potion of Healing II
32 Weakness Arrows