Discontinued!Edit
The following information is about a MobArena from a previous map. The MobArena is non existant and cannot be found on /ma list. The information is still available for your reading pleasure.
The Hellfire Arena was a moderately sized arena with a Nether-like theme. It featured a netherrack ground with random fire patches, a quartz-prismarine spawning point, and a nether fortress-like structure that acted as a second floor. There is also no fall damage in this MobArena. Unlike
DesertStorm
, this arena had a view into the Class area. You can see a picture below. It was built by Jak and NinjaCreeper99.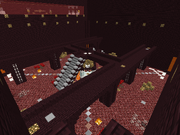 Instead of healing potions, this MobArena had Healing Vials.
There were a total of 5 classes in Hellfire.
Blaze, "Pseudo-flight, good range, but weak melee."

Blaze Head with Fire Protection X
Blaze Torso (Golden Chestplate) with Protection VII
Stone Sword with Sharpness I
Blaze Rod that grants fireball shooting and flight:

Left Click shoots a fireball
Right Click sends the player flying towards where the mouse is facing, creating a flying effect.

1 Healing Vial II

Zombie Pigman, "Powerful and fast, but not very tanky."

Pigman Head with Protection V and Fire Protection V
Pigman Torso (Golden Chestplate) with Protection X
Pigman Hooves (Golden Boots) with Feather Falling V
Pigman Sword (Golden Sword) with Sharpness V
1 Regeneration Vial I
2 Healing Vial II

Wither Skeleton, "Vampiric Effect on Mob Damage; high sustain."

Wither Skull with Protection III
Wither Ribcage (Black Leather Chestplate) with Protection V
Black Leather Pants
Wither Feet (Black Leather Boots) with Feather Falling V
Wither's Might (Stone Sword) with Knockback II and Vampiric Effect.

Attacking mobs heals you for a certain amount, based on your damage.

2 Strength Vial I

Magma Cube, "Bouncy, Tanky, Flamey, and has pet wolves."

Magma Cube Head
Magmatic Compression Suit (Brown Leather Chestplate) with Protection VII and Thorns X
Magmatic Spring Legs (Brown Leather Pants) with Thorns X
Magmatic Boosters (Brown Leather Boots) with a permanent Jump Boost Buff.
Magma Shiv (Stone Sword) with Sharpness III and Fire Aspect II
2 Healing Vial I
2 Bones (Summons 2 wolves in play)

Ghast, "Pseudo-Flight, less convenient, more versatile."

Ghast Skull with increased Speed and Agility.
Ghastly Flight Suit (Iron Chestplate) with Protection IV
Ghast Tentacles (Iron Leggings)
Ghast Tentacle Ends (Iron Boots) with Feather Falling V
Ghast Talon (Diamond Sword)
Ghastly Quickshot (Fire Charge) grants fireball shooting and the force to push mobs back:

Left Click shoots a fireball.
Right Click pushes mobs back.

Ghastly Wings (Feather), Right Clicking allows the user to fly.
2 Regeneration Vials I
2 Regeneration Vials II
There were 2 bosses in Hellfire; one at wave 25, and one at wave 50.
The Boss at wave 25 was a Ghast.
The Boss at wave 50 was a Wither.

The Reward for defeating the Wither Boss is a Wither Skull